Maryland doubled its sales to almost $30M in 2109
Marijuana patients increased by about 200% in 2019
MMCC is registering new agents to address the increasing demand
Maryland earned $10M from medical marijuana in 2019
99,912 Maryland citizens (1.65%) were using this drug
Medical marijuana is thriving in Maryland despite Coronavirus
Less than 10g marijuana is not a criminal offense
Six out of 1000 in Maryland use medical marijuana
Maryland medical marijuana sales increased in 2019-2020 to almost twice the 2018 sales. Maryland  dispensaries like AmediCanna of Baltimore had registered record sales of about $128.8M by the end of July, in that year. Research shows that the demand for medical marijuana had increased. The number of registered and certified patients shot to more than 100,000 and around 75,000 in that order. Moreover, there was an overwhelming number of business operators that scrambled for 14,000 available licenses.
The hitherto slow marijuana industry in Maryland recorded sales of nearly $100 million between July to December 2018. Even New York, Illinois, and Massachusetts combined could not equal Maryland sales. Here is how the other three states had fared in their medical marijuana sales:
Illinois sales had reached a maximum of $36.6M
Not more than $35.0M totaled the sales in MA
NY recorded sales of $15 million on the highest side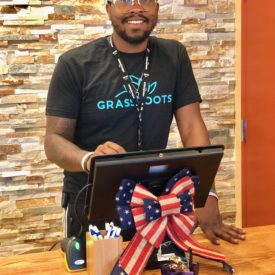 The state of Maryland had begun with about 11,000 registered marijuana patients in 2017. With the number rising to 39,276 in 2018, a solid, a more than 200% growth rate emerged. The other three states still struggled with a patient number either of 13,000 or below. Notably, 1000 medics were in the database as registered to handle marijuana patients and recommend the drug. Maryland overtook the other three as these statistics show:
Maryland ended 2108 with 71 shops up from 10
Illinois added just 6 shops having begun at 40
New York and Massachusetts had less than 10, and the number remained at that level
Maryland Medical Cannabis Commission is a beehive of activity. The commission is always receiving requests for licensing. As of June 2020, many patients have come to the commission on recommendations from their doctors. The commission went ahead to issue directives on new agent registration temporarily. This measure is in reaction to the surging number of patients requiring medical cannabis. The commission intends to register more:
Growers
dispensary agents
processors of medical marijuana
This shows the underlying nature of those pressing demands.
According to the Maryland Reporter, medical marijuana boosted tax revenue. The drug injected $10,371,437 into the state revenue in the 2019 financial year. The figure was more than what the entire state spent, which was to the tune of $5,608,806. Proceeds from medical marijuana sales could have funded the state expenditure that year. This figure marked a magical leap from about $3.5M in the previous year. In New York, cannabis processors earned less than $35M. Yet Maryland companies earned a whopping $96 million altogether. This achievement came despite the many difficulties that face entrepreneurs.
Opening a cannabis shop in the state has been difficult. The following ailments sent most patients the marijuana way:
Post-traumatic stress disorder
Disabling pains
Severely nauseated patients
In the year 2019, the number of marijuana patients in the state of Maryland stood at 99,912. The state had a total population of 6,045,680 people. The number of patients translates to 1.65% of the total. By all means, this is not a small number of patients as compared to other states like New Jersey. NJ registered 51,000 patients out of a possible 8,882,190. The percentage of 0.57 is lower than Maryland's. These statistics explain why there was a surge in medical marijuana sales that year. It is noteworthy that:
• Missouri and Maryland's populations are almost at par (Missouri has 6,137,428 people as at 2019)
• The number of marijuana patients in Maryland is double that of Missouri- Missouri had 44,097 patients.
The resilient medical marijuana business has remained intact despite the heavy toll that Coronavirus has had for many companies. While other companies are going down, medical marijuana sales continue to rise. Experts have associated this with panic buying. Patients with underlying medical conditions that required medical marijuana panicked. No one wanted to be in a situation where they cannot move outside, yet their stock of this essential drug is over. The Coronavirus situation continues to be unpredictable. Even then, medical marijuana sales may still maintain a steady increase. The Maryland Medical Cannabis Commission has been supporting efforts to make the drug more accessible to patients during this crisis.
It is not a crime to carry less than 10 grams of medical marijuana. Instead, you face the law as a civil offender if caught. Here is what law on medical marijuana says in Maryland:
A jail term of 90 days and not more than $500 fine for an offense of possessing less than 10g of marijuana
For more than 10 grams, one faces a 1 year in jail and not more than $1000 in fine
The above conditions came into effect through a 2014 bill of the Maryland state
Not all medical marijuana patients had registered themselves in the state as of May 2018. For every 1000 people in Maryland, at least 6 were medical marijuana patients. This scenario means that, out of the 6,052,177 people as of the 2018 population estimates, 39,276 had registered. The 2019 numbers shown above almost tripled the preceding year. It is therefore not surprising why the Maryland state revenue from medical marijuana, which was less than $4 million, increased by more than twice its values, in 2019.