Electronic Dance Music Statistics 20223-2022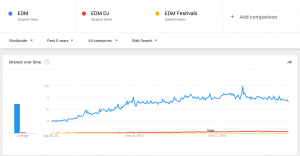 1. Twelve of the 100 top-selling albums of 2014 were electronic dance music (EDM) albums. Not only that, but Billboard's 2020 year-end list of the Hot 100 singles included nine EDM collaborations. In all, an estimated 595,000 EDM tracks were released in 2022alone.
EDM earns the music industry an estimated $20 billion a year according to EDM popularity statistics at LowTone. The Coachella festival alone earns $47 million in revenue each year. About 147 million EDM concert tickets are sold each year, and of these, 58% are purchased by males purchasing a single ticket only. Between 2021 and 20202, interest in EDM increased 76% for the 35 to 49 age group.
2. EDM's impressive growth slowed from 2015 to 2016, but the news isn't all bad for the genre. While EDM sales jumped $4.5 billion from 2012 to 2013 and $6.9 from 2014 to 2015, the growth from 2015 to 2016 was "only" $200 million, a still impressive but smaller 3.5 percent growth rate.
The U.S. market might be at full saturation at this point, but the same can't be said for markets in other countries, particularly in Asian countries. It doesn't hurt that EDM is largely instrumental, helping overcome the language barrier that exists with more vocally-oriented genres of music. EDM festivals have popped up in China, Cuba, the Philippines, South America, and Vietnam in 2016 alone. And EDM is the only music genre that's seen an increase in Google searches since 2009.
3. EDM tracks were streamed 11.2 billion times between June 2014 and June 2015. Avicii's "Wake Me Up" became Spotify's most streamed song ever in 2014.
In the U.S., about 47 percent of EDM listeners are Caucasian, 27 percent are Latino/Latina, 20 percent are African-American, and 5 percent are Asian. Americans are the #1 listeners of EDM tracks, but in terms of sales, German and United Kingdom listeners purchase these tracks more frequently. Women make up 45 percent of the audiences at EDM events, but female DJs get only 6 percent of DJ bookings.
4. The 10 top-earning DJs earning a combined $115 million in 2012. The single top-earning DJ, Tiesto, accounted for $22 million of that.
EDM is also profitable for local economies. The Ultra Music Festival, part of Miami's 10-day Winter Music Conference, generates $79 million for Miami-Dade County and $10 million in state and local tax revenues.
5. EDM was worth a reported $7.1 billion in 2016. Between 2014 and 2015, EDM was the only genre of music festival that showed a year-over-year increase in attendance. The EDM events that had the biggest increase in attendance were club events with no specific DJ headlining the event.
EDM is the 5th most popular genre for music streaming in the U.S. Across Europe, one out of every seven people says they've attended a live EDM event in the past three years. The number is one of every six in the U.K. and one out of every three in Spain.
Tech house was the main trend within EDM for 2015, but in 2016 tech house began to be overcome by techno (marked by heavy drums and a repetitive beat). .